Hartley Vale: Where To Go / Sightseeing
Hartley Historic Site
Park the carriage and water the horses while you have an ale, unless you are here for Court. At least that was the case in the 1830's. Hear the stories of convicts and early pioneers that called Hartley home, on a guided tour of the Greek Revival Courthouse and St Bernard's Catholic Church. Other features of Hartley include Kew-Y-Ahn - Aboriginal Art Gallery, Walking Track to Granite Tor, Old Hartley Post Office Cafe and Talisman Gallery. Clean amenities for travellers available.
Great Western Highway
Hartley, NSW, 2790
Located 2.4K from Hartley Vale
Hassans Walls Lookout
Hassans Walls Lookout is the highest lookout in the Blue Mountains at approximately 1,100 metres above sea level. Look out to Mount Wilson, Mount York, Mount Tarana and Mount Blaxland and the whole Hartley Valley below. To the south are the Kanimbla and Megalong Valleys and Mount Bindo (1,363 metres).
You can also walk or ride around Hassans Walls Lookout.
Hassans Walls Reserve
Lithgow, NSW, 2790
Located 4.2K from Hartley Vale
The Lolly Bug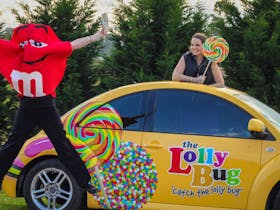 Visitors are spoilt for choice at The Lolly Bug in Little Hartley with over 1500 varieties of lollies from all over the world. They have a large range of English and American sweets, Aussie and New Zealand favourites, Dutch licorice, Australian rock candy, chocolate coated goodies, lollipops and novelty items.
The colourful gift range is fun and quirky and they have a large selection of gourmet goodies - local jams, honey and relishes and some of the hottest chilli sauces in the world. Situated between Katoomba and Lithgow - look for the colourful VW bugs out the front.
2297 Great Western Highway
Little Hartley, NSW, 2790
Located 5.5K from Hartley Vale
Mount York
Mount York, 7.5 kilometres from Mount Victoria is a natural site that at 1061 metres has commanding views over the western plains, many layers of Aboriginal and European heritage, several convict built roads (now walking tracks) and remnants of the old convict built roads (1823-1829) can still be seen.
Monuments at the site demonstrate a change in architectural style and social means of commemorating historic events such as the first European crossing of the Blue Mountains, May 1813 by Blaxland, Lawson and Wentworth, survey of the first road by George Evans, November 1813 and building of the first road, Cox's Road, in 1814. Further along Mount York Road is historic convict built Lawson's Long Alley and Lockyers Line of Road; Berghoffers Pass and Bardens Lookout.
Mount York is traditionally the land of the Gundungurra and Darug Aboriginal people and today is popular for bushwalking, abseiling, mountains biking and rock climbing.
Mount York Road
Mount York, NSW, 2786
Located 6.1K from Hartley Vale
Lake Lyell Recreation Park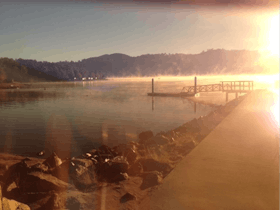 Lake Lyell is a beautiful destination within two hours drive from Sydney. It provides visitors with access to the lake via a concrete boat ramp for waterskiing, fishing, kayaking and general boating. The park has both powered and unpowered sites, hot showers, free barbecues, and a children's' playground. It is a magnificent bush setting, and only 10 minutes from Lithgow.
Now home to the Aqua Blitz.
The park also has a number of picnic tables, catering for overnight visitors and day visitors.
Lake Lyell provides cooling water for both Wallerawang and Mount Piper Power Stations. The Lake is connected to Wallerawang Lake by pipeline and hence to Wallerawang and Mount Piper Stations. Water is pumped from Lake Lyell Dam on the Cox's River, about 20 kilometres from the power station to the Thompson's Creek Dam, close to Mount Piper, which provides an additional 27,000 mega litres of cooling water.
LOT 1 Magpie Hollow Road
South Bowenfels, NSW, 2790
Located 6.1K from Hartley Vale
Wild Meadows Garden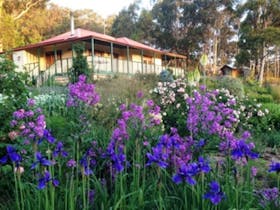 A new garden with a different look. There was no garden here five years ago, just paddocks. Wild Meadows Garden was designed in a naturalistic way with floral meadows and woodlands to complement each other, hence the name 'Wild Meadows'. Skilfully planned, the plantings of trees, shrubs, herbaceous perennials, bulbs and grasses display seasonal change from spring subtle greens to summer riots of colour, autumn berries and leaves to winter russets and structure. There are many unusual plants that will excite any garden enthusiast.
Open Days:
November 2015 Saturday 28 to Sunday 29, 9am - 3pm
January 2016 Saturday 16, 9am - 3pm
February 2016 Saturday 20, 9am - 3pm
March 2016 Saturday 26, 9am - 3pm
April 2016 Saturday 16, 9am - 3pm
May 2016 Saturday 21, 9am - 3pm
June 2016 Saturday 25, 10am - 2pm
243a Cox's River Road
Little Hartley, NSW, 2790
Located 6.5K from Hartley Vale
Lithgow Small Arms Factory Museum
In 1906 the Australian Government decided Australia should be independent from Britain for her defence needs. The Lithgow Small Arms Factory commenced production in 1912.
This museum, situated in the grounds of the Small Arms Factory, celebrates the rich history of Australia's first high precision mass production facility and its people.
Over its years of operation Lithgow SAF accumulated military small arms from all over the world for technical appraisal. These and the Factory's own production form the basis of a most comprehensive collection of rifles, sub-machine guns and ordnance.
To keep this vital factory going between wars, an amazing array of commercial products were manufactured. The Factory saved the floundering Australian wool Industry during the 1930s, manufacturing parts for shearing handsets, replacing expensive English equipment.
In 2007, collector Ron Hayes donated a magnificent handgun collection. The diversity in the Ron Hayes Gallery will amaze even those disinterested in firearms.

69 Methven Street
Lithgow, NSW, 2790
Located 6.9K from Hartley Vale
Hartley Vale: Events
Back to Hartley Annual Produce Market
*** Latest event details are yet to be confirmed ***
Back to Hartley is a community event to promote their heritage and raise funds for local charities.
Walk around the Hartley Historic Site and experience the beauty and vibrancy of the historic village - explore the wonders of the Talisman Gallery or the fantastic work of local indigenous artist in the Kew-Y-Ahn Gallery, or view the village from the Granite Tors overlooking the village.
The event showcases a variety of arts, crafts, produce from the region, vintage cars, a selection of food and drinks, face painting, petting zoo, Lithgow Folk Club, Sally Anne's Dancers, sheep shearing, or try your hand at archery. Self guided tours of the Courthouse, trike and pony rides, and much more.
Event Dates
2015
      25th Oct
2016
      25th Oct
Old Bathurst Road
Hartley, NSW, 2790
Located 1.9K from Hartley Vale
RedAss Downhill State Round 2 Lithgow
Round two of the RedAss Downhill Enduro Series will be held at the Pony Express Track in Lithgow.
With successful state races being held in Lithgow every year since 2012, the downhill racing circus is coming back for more and the local Central Tablelands MTB Club will once again be the hosts together with the Pony Club. Organisers Rocky Trail and NSW MTB are expecting more than 200 racers to the prestigious event. Race participants will be able to sign up online ahead of the race. Spectator entry is free.
Event Dates
2016
      26th Sep
      27th Sep
      15th Oct
      16th Oct
Hassans Walls Road
Lithgow, NSW, 2790
Located 5.5K from Hartley Vale
Aberdeen Highland Games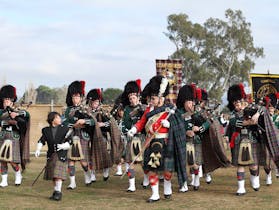 The annual Aberdeen Highland Games take place first weekend in July each year. It is the final event of Scottish Australia Heritage Council's Heritage Week.
During the event more than 23 events take place with stalls providing food and Celtic displays all of which represent traditional Celtic culture and recreation as well as the traditional Kirkin of the tartan. The games are a gathering together from Sydney and regional New South Wales of pipe bands, Clans, dancers, heavy events, and state and interstate tug-of-war teams to celebrate the Celtic history of the Upper Hunter.
Following the excitement of the Highland Games there will be an authentic Scottish Ceilidh. The English Dictionary defines a ceilidh (pronounced kay-lee) as "an informal social gathering, with songs, story-telling, music and dancing". The Ceilidh is always a great night out where everyone is welcome.
Event Dates
2016
      2nd Jul
New England Highway
Aberdeen, NSW, 2336
Located 6.0K from Hartley Vale