Cunningar: Where To Go / Sightseeing
Coddington Park and Roberts Park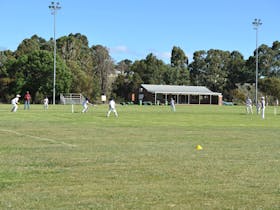 Coddington Park is located on the Burley Griffin Way in Murrumburrah. The Murrimboola Creek runs alongside the park. Coddington Park and Roberts Park sporting fields adjoin which makes Coddington Park a busy hub during sporting competitions. Coddington Park is within walking distance of the Albury Street shopping precinct. It is filled with playground and barbecue equipment and public toilets.
Corner Albury Street and Iris Street
Murrumburrah, NSW, 2587
Located 6.2K from Cunningar
Light Horse Memorial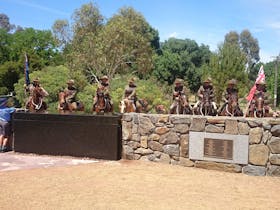 The Light Horse Memorial commemorates the birthplace of the First Australian Light Horse at Murrumburrah in 1897.
Bronze sculptures of Corporal William Bradford of the First Australian Light Horse, the 'Retreat at Romani' with horse, 'Bill the Bastard' carrying five men, and a diorama of Beersheba by Murrumburrah sculptor Carl Valerius, granite blocks, nearby is a wall of remembrance and a number of commemorative plaques are set in a garden near Murrimboola Creek.
On August 30 1897, the very first call up muster and enrolments to the First Australian Horse took place at Harden-Murrumburrah. Advertisements were placed in local papers inviting men to join in and they were promised comradeship, sport and good fun. Of the 80 who arrived on the day, 60 local men were picked to join as volunteers. They had prove themselves as competent riders and had to provide their own horses.
Albury Street and Bathurst Street
Harden, NSW, 2587
Located 6.3K from Cunningar
The Gold Trail Experience
The Gold Trail Experience museum in historic Murrumburrah takes you through the rich gold history of the local area via interactive touchscreens - with interactive multimedia.
Learn about the area's colourful past with bushrangers, troopers, Chinese and European miners, and all the characters that shaped this great land. A wonderful, informative experience for the whole family.
The museum is located next to Barnes Store Emporium and cafe, serving great coffee and scrumptious fresh homemade food.
354 Albury Street
Murrumburrah, NSW, 2587
Located 6.7K from Cunningar
Saint Clement's Retreat and Conference Centre
Saint Clement's is a contemporary, well-resourced retreat and conference centre set on 800 acres in a tranquil, picturesque setting.
Conducive to reflection, prayer and study, it is also an ideal conferencing and meetings centre with modern, air conditioned facilities. It has a peaceful ambience that will meet the needs of both individuals and groups.
Kalangan Road
Galong, NSW, 2585
Located 11.2K from Cunningar
The Black Swan Gallery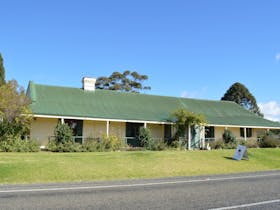 Travel along the Burley Griffin Way through the village of Binalong and find yourself at the newly renovated Black Swan Gallery, This is a slice of history you can't go past. Now a working gallery with a range of exhibitions, you can enjoy sweet and gourmet snacks, local wines and devonshire teas.
At 166 years old The Black Swan has a number of unique features. Built of pis? (rammed earth) and hand hewn hard woods, there are some non standard relationships between doors and walls, ceilings and floors!
The gallery includes one large room and two smaller rooms lending itself to group exhibitions or retrospectives.
25 Stephens Street
Binalong, NSW, 2584
Located 22.8K from Cunningar
Cunningar: Events
Gold Trails Colonial Festival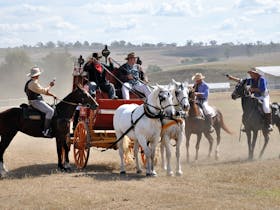 The Harden Gold Trail and Colonial Festival kicks off with a Bush Dinner Dance which is held at the Mechanic's Institute located in Neill Street, Harden. There is lots to see and do including gold panning, bushranger re-enactments, historical displays, a billy cart derby, art show, Aboriginal Dreamtime storytelling, bush poetry, children's games, maypole and Morris dancing, Colonial dress fashion parade, vintage car display, yummy food to eat and much, much more.
Corner of North Street and Woolrych Street
Murrumburrah, NSW, 2587
Located 5.9K from Cunningar