Hoskinstown: Where To Go / Sightseeing
Bungendore Wood Works Gallery
The Bungendore Wood Works Gallery exhibits and promotes Australian wood art, giftware, sculpture and contemporary furniture by the country's foremost designer/makers in wood. The Gallery takes pride in the skill and art of Australia's craftspeople, and in the varied richness and beauty of native timbers.
The Gallery collaborated with makers to design and develop new work to ensure the Gallery remains a leader in woodcraft and studio furniture.
18 Malbon Street
Bungendore, NSW, 2621
Located 17.6K from Hoskinstown
Antica Trading
Antica Trading is a retail store based in Bungendore, NSW. Selling all things old, new and recycled, including antiques, collectables, gifts, artefacts, outdoor items, furniture and much more.
Stock includes African recycled products, artefacts, beautiful metal and wood animal sculptures, naturally formed rock sculptures from Thailand, antiques and collectables from around Australia, England and Europe, outdoor plant pots, garden decor and many more items from various parts of the world.
1 Malbon Street
Bungendore, NSW, 2621
Located 17.6K from Hoskinstown
Bungendore Fine Art
This friendly gallery is jam packed with fine paintings by Canberra's regional artists.
See landscapes, street scenes, Australian flora and fauna, impressionist and realist interpretations. Meet artists in store. Their monthly exhibitions introduce artists from far and wide to the gallery.
Bungendore Fine Art has fine quality art at affordable prices.
The artist/partners not only exhibit their work, but are on hand each day on a roster basis to look after visitors. The artists often paint in between customer visits.
42B Ellendon Street
Bungendore, NSW, 2621
Located 17.7K from Hoskinstown
Suki and Hugh Gallery
Suki and Hugh Gallery is a contemporary art gallery and shop in the heart of Bungendore. The gallery promotes and exhibits local and international artists and designer's work including photography, paintings, ceramics, glass, gifts, books and stationery. The contemporary gallery space offers artists a quality venue to exhibit and highlight work.
38A Gibraltar Street
Bungendore, NSW, 2621
Located 17.7K from Hoskinstown
Hoskinstown: Events
The Kowalski Classic 2016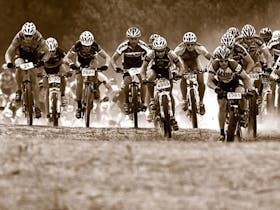 Now in its fourth year, the Kowalski Classic is a one-day showcase of the famous trails in East Kowen Forest and Sparrow Hill. The event celebrates the achievements of local trail builders Paul Cole, Alan Anderson and the mysterious and award winning Kowalski Brothers Trailworks, who together have hand built over 100km of flowing trail in East Kowen (the Kow) and Sparrow Hill (the Bird).
A singletrack marathon like no other, the Full Kowalski will challenge you as you race over a mind bendingly high proportion of singletrack and a few stem biting climbs.
Event Dates
2016
      18th Sep
Millpost Road,
off Kings Highway (approx. 12km from Bungendore)
Bungendore, NSW, 2621
Located 12.0K from Hoskinstown
The Market at Bungendore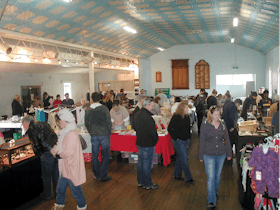 The market@bungendore is open on the third Sunday of every month.
Shop or browse for their unique local produce, products, art and crafts and general stalls. Light lunch and great coffee available from the kitchen.
Make a day out of it and explore the rest of Bungendore, only a 25 minute drive from Canberra.
If you don't feel like driving, you could always travel there and back by steam train with Historic Railway Tours.
Event Dates
2016
      19th Jun
      17th Jul
      21st Aug
      18th Sep
      16th Oct
      20th Nov
      18th Dec
2017
      15th Jan
      19th Feb
Lot 7, Molonglo Street
Bungendore, NSW, 2621
Located 17.5K from Hoskinstown
Southern Harvest Farmers Market at Bungendore
The Farmers Market is held from 9am to 1pm on the second and fourth Saturday of each month at the Memorial Hall, Molonglo Street, Bungendore.
The market is a great source of fresh food and farm produce from around the region including meat, eggs, honey, fruit, vegetables, preserves and refreshments.
Stall holder enquiries welcome.
Bungendore Memorial Hall,
51 Molonglo Street
Bungendore, NSW, 2621
Located 17.6K from Hoskinstown
French Cooking Classes and Lunch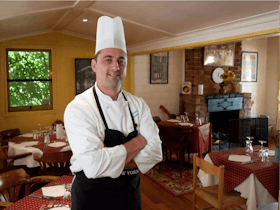 French chef Christophe's cooking classes will take you a gastronomic journey through France. You will be immersed in the food and wine traditions of each region. The cost includes all materials, cooking equipment, ingredients, aprons and recipes, tea/coffee on arrival, hands-on cooking class, glass of sparkling and a long table two course lunch with a glass of matching wine.
Special fresh truffle season cooking classes, French patisserie and Christmas classes also available. Check the Le Tresbon website for the cooking class program.

Event Dates
2016
      28th May
      25th Jun
      2nd Jul
      16th Jul
      6th Aug
      27th Aug
40 Malbon Street
Bungendore, NSW, 2621
Located 17.6K from Hoskinstown
ObstaSplash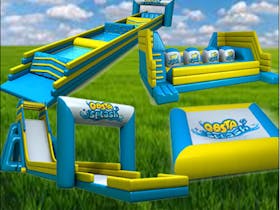 Welcome to ObstaSplash!
Australia's most epic Inflatable Obstacle Course.
Slip, stack, splash, music and mayhem. It's time to get the mud out and the fun back in. The course spans five kilometres of flat grassland with 12 inflatable obstacles such as "ObstaScream" ObstaBlueBalls and ObstaDance stations (giant inflatable dance floors) with themed music to get your groove on.
Obstasplash is proudly Australian owned and operated.
Mathews Lane
Bungendore, NSW, 2621
Located 18.8K from Hoskinstown