Mount Fairy: Where To Go / Sightseeing
Pelican Sheep Station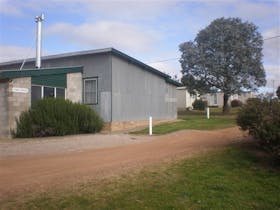 Pelican Sheep Station is just 10 kilometres south of Goulburn on the Braidwood Road and consists of 930 hectares of gently undulating country, lightly timbered with Eucalyptus Red Gum and Box on the hills.
Sheep shearing demonstrations are held for visitors and there are bushwalking trails where you can see the outline of the farm. Catch a glimpse of the many kangaroos and rabbits and all other animals in the wild. Depending when you visit Pelican Sheep Station, you may see a variety of farm activities.
Pelican Sheep Station offers a unique trip into traditional Australian country life. In the centre of Goulburn's sheep district - one of the great wool producing areas of the world.
48 hours notification is required for Pelican Sheep Station Tours, and they are conducted by request only. They will design a tour to your requirements.
Braidwood Road
Goulburn, NSW, 2580
Located 12.6K from Mount Fairy
Goulburn Rail Heritage Centre
The Goulburn Locomotive Roundhouse is the largest heritage based operating roundhouse in New South Wales and displays the historic transition from steam to diesel operation. A range of locomotives, items of rolling stock and railway ephemera are exhibited.
Take a tour through the Goulburn Rail Heritage Centre and enjoy a step back in time and experience one of Goulburn's most treasured historic working relics - the Goulburn locomotive roundhouse. A significant part of the city's history, the 42 road circular shed with its 90 foot turntable was built in 1928 and continues to operate today.
In recent years, a group of passionate railway volunteers have formed the Goulburn Loco Roundhouse Preservation Society Inc. dedicated to keeping Goulburn's rich rail story alive.
12 Braidwood Road
Goulburn, NSW, 2580
Located 12.6K from Mount Fairy
Suki and Hugh Gallery
Suki and Hugh Gallery is a contemporary art gallery and shop in the heart of Bungendore. The gallery promotes and exhibits local and international artists and designer's work including photography, paintings, ceramics, glass, gifts, books and stationery. The contemporary gallery space offers artists a quality venue to exhibit and highlight work.
38A Gibraltar Street
Bungendore, NSW, 2621
Located 17.2K from Mount Fairy
Bungendore Fine Art
This friendly gallery is jam packed with fine paintings by Canberra's regional artists.
See landscapes, street scenes, Australian flora and fauna, impressionist and realist interpretations. Meet artists in store. Their monthly exhibitions introduce artists from far and wide to the gallery.
Bungendore Fine Art has fine quality art at affordable prices.
The artist/partners not only exhibit their work, but are on hand each day on a roster basis to look after visitors. The artists often paint in between customer visits.
42B Ellendon Street
Bungendore, NSW, 2621
Located 17.4K from Mount Fairy
Bungendore Wood Works Gallery
The Bungendore Wood Works Gallery exhibits and promotes Australian wood art, giftware, sculpture and contemporary furniture by the country's foremost designer/makers in wood. The Gallery takes pride in the skill and art of Australia's craftspeople, and in the varied richness and beauty of native timbers.
The Gallery collaborated with makers to design and develop new work to ensure the Gallery remains a leader in woodcraft and studio furniture.
18 Malbon Street
Bungendore, NSW, 2621
Located 17.5K from Mount Fairy
Antica Trading
Antica Trading is a retail store based in Bungendore, NSW. Selling all things old, new and recycled, including antiques, collectables, gifts, artefacts, outdoor items, furniture and much more.
Stock includes African recycled products, artefacts, beautiful metal and wood animal sculptures, naturally formed rock sculptures from Thailand, antiques and collectables from around Australia, England and Europe, outdoor plant pots, garden decor and many more items from various parts of the world.
1 Malbon Street
Bungendore, NSW, 2621
Located 17.7K from Mount Fairy
Mount Fairy: Events
Willowglen 4x4 Challenge
*** Latest event details are yet to be confirmed ***
It is on again! It is the 14th year for the TLCC Willowglen 4x4 Challenge and they are really excited about this year.
The TLCC Willowglen 4x4 Challenge is an exciting 4WD event held annually over the NSW October Long Weekend. The Willowglen 4x4 Challenge sees more than 20 teams consisting of four vehicles each, from various registered 4WD clubs competing over a Friday night stage, four stages on Saturday and four stages on Sunday.
The Friday night stage commences just after sunset, Saturday's events are all day and Sunday's events are all day concluding with the Mud Hole, followed by the presentation at approximately 6:00pm.
Follow the signs from Tarago.
Event Dates
2015
      3rd Oct
      4th Oct
2016
      3rd Oct
      4th Oct
Cullulla Road
Tarago, NSW, 2580
Located 11.7K from Mount Fairy
Run With The Wind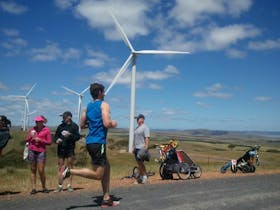 *** Latest event details are yet to be confirmed ***
Run With The Wind offers ten kilometre and five kilometre fun runs suitable for all ages, motivations and pram joggers! It is an exciting fun run set amongst the wind turbines at the Woodlawn Wind Farm, situated near the town of Tarago.
Cash prizes for the first three overall male and female finishers in the 10 kilometre run: AUD1,500, AUD350, AUD200. Plus some fun categories and sport prizes, fastest 10 kilometre pram pusher and a team category!
2014's event was a huge success, with over 600 runners taking part - the event was won by 2012 Olympian, Martin Dent, defending his win of the course for the past three events.
Bungendore is ideally located between the South Coast and Canberra, a nice drive from Sydney too with nearby historic Braidwood boasting beautiful churches, pubs, cafes, galleries, craft and antique shops.
Make a weekend of it!
Event Dates
2015
      11th Oct
2016
      11th Oct
Tarago-Collector Road
Tarago, NSW, 2580
Located 12.3K from Mount Fairy
Bungendore Quilt Exhibition
*** Latest event details are yet to be confirmed ***
The Bungendore Quilters' Annual Quilt Exhibition will feature a collection of handmade quilts, patchwork and textiles by members of Bungendore Quilters.
This year there will also be a special exhibit by local textile artisans. The exhibition proudly supports local craftspeople and the community.
They also have the ever popular Viewer's Choice Award, annual Member's Challenge, annual raffle and sales table with good quality handmade items just in time for Christmas.
Come to enjoy and be visually stimulated! The exhibition will complement neighbouring village Braidwood's The Airing of the Quilts, just a short drive from Bungendore.
Event Dates
2015
      28th Nov
      29th Nov
2016
      28th Nov
      29th Nov
Molonglo Street
Bungendore, NSW, 2621
Located 17.3K from Mount Fairy
French Cooking Classes and Lunch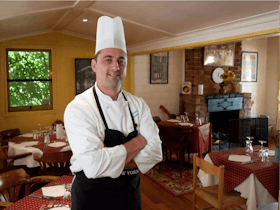 French chef Christophe's cooking classes will take you a gastronomic journey through France. You will be immersed in the food and wine traditions of each region. The cost includes all materials, cooking equipment, ingredients, aprons and recipes, tea/coffee on arrival, hands-on cooking class, glass of sparkling and a long table two course lunch with a glass of matching wine.
Special fresh truffle season cooking classes, French patisserie and Christmas classes also available. Check the Le Tresbon website for the cooking class program.

Event Dates
2016
      16th Apr
      7th May
      28th May
      25th Jun
      2nd Jul
      16th Jul
      6th Aug
      27th Aug
40 Malbon Street
Bungendore, NSW, 2621
Located 17.3K from Mount Fairy