Murrumbateman: Where To Go / Sightseeing
Poachers Way
One of the best ways to absorb the Yass region's vibe, taste its treats, sample its wines, and luxuriate in its hospitality is to follow The Poachers Way, a joint effort by local producers, chefs, artisans, and hosts to showcase unique produce and lifestyles.
Start the trail north at Lake George, Canberra itself, or the Barton Highway at Murrumbateman with stops like Robyn Rowe's Chocolates, visiting numerous cellar doors along the way, and even explore by horseback with Burnelee Excursions.
Unique fine dining and local produce is found at Poacher's Pantry or Gundaroo's famous Grazing Restaurant, Capital Wines Epicurean Centre and the historic character-filled Colonial Inn. Experience Flint at Shaw Vineyard, reminiscent of the great vineyard restaurants from the country regions of France and Italy.
The Poachers Way is one of Australia's most memorable travelling experiences and you'll want to return again and again.
25 Businesses in the Yass Valley Region
Murrumbateman, NSW, 2582
Located 0.1K from Murrumbateman
Robyn Rowe Chocolates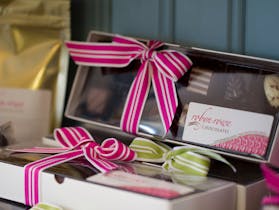 Only the finest Belgian Fair Trade couverture is used to craft these irresistible chocolates.
Immerse yourself in their chocolate world and learn how they make these wonderful chocolates. Come and treat your taste buds. Chocolate drinks, coffee and tea available.
Robyn Rowe has created a truly unique and highly sought after Australian product using traditional European methods, with skills learnt in Australia and Belgium.
Visit Robyn Rowe Chocolates, set in a very Australian rural setting, for a unique chocolate learning experience. Life is short - make it sweet!
1153 Nanima Road
Murrumbateman, NSW, 2582
Located 9.5K from Murrumbateman
Burnelee Excursions on Horseback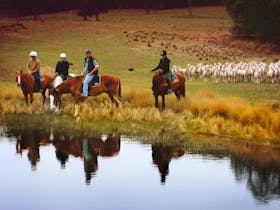 Burnelee excursions on horseback are located between Murrumbateman and Gundaroo about 30 minutes from Canberra.
There is nothing better than viewing Australian wildlife in 1,000 acres of natural bushland. What about the thrill of mustering sheep and cattle? Now is the time to give it a go if you've never done it before.
A variety of horses are available for all levels of riders with each ride being accompanied by an experienced instructor. Their top priority is fun and safety. Regular two hour rides are held most Saturdays, with day rides available on request.
320 Dicks Creek Road
Murrumbateman, NSW, 2582
Located 11.7K from Murrumbateman
Hume and Hovell Walking Track Yass - Wee Jasper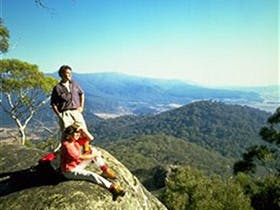 The track follows as closely as it can, the route followed by Hamilton Hume and William Hovell in the spring and summer of 1824-1825. The route traverses a variety of topography, vegetation and land use, as well as numerous points of historic interest.
The Yass to Wee Jasper section of track provides for half day, one day and weekend walks suitable for the whole family.
Although the basic activity associated with the track is walking, there are opportunities for a range of recreational pursuits including swimming, camping, nature study, fishing, photography, wildlife observation and historical appreciation.
The track starts at Cooma Cottage Yass and goes via Black Range Road to Burrinjuck, then by boat (by arrangement with Burrinjuck Kiosk) to Wee Jasper. Walkers may join the track 60 kilometres south of Yass at Wee Jasper.
Maps available from the Yass Valley Visitor Information Centre.
Cooma Cottage,
Yass Valley Way
Yass, NSW, 2582
Located 13.9K from Murrumbateman
Murrumbateman: Events
Murrumbateman Field Days
Held on the third weekend in October each year, The Murrumbateman Fields Days are the Yass Valley and Canberra Region's premier small farm field day event.
Located at Murrumbateman on the Barton Highway just 20 minutes from Canberra and only 10 minutes from Yass, the field days are always a great day out.
Now in its 37th year, the Murrumbateman Field Days bring together over 450 exhibitors, displaying the latest machinery, equipment and services to successfully run a small farm and of course tempting all your taste buds with superb local wines and produce.
Visitors can enjoy the Yass Antique Farm Machinery tractor pull, the spotlight on the region featuring local produce and the children will be most delighted to pat the animals in the children's farmyard. So bring the whole family and come along to the annual Murrumbateman Field Days for a weekend full of fun.
Event Dates
2016
      15th Oct
      16th Oct
Barton Highway
Murrumbateman, NSW, 2582
Located 0.1K from Murrumbateman
Canberra District Wine Harvest Festival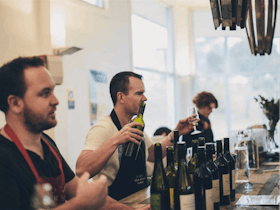 *** Latest details to be confirmed. ***
Relax and celebrate the new vintage with cool climate wines, entertainment and great food at the Wine Harvest Festival.
Local wineries are offering a variety of tasting adventures, entertainment (music and artwork), delicious food, and the opportunity for a great day (or days) out in the country.
Meet some of the makers of the Canberra District's nationally and internationally recognised wines at their own cellar door, enjoy guided tours of vineyards by their owners, and taste the latest wines from a region renowned for its diversity of geography and variety.
Grab your Festival Passport and have it stamped at three participating wineries to go into the draw to win one of three Canberra District mixed dozens.
See individual winery web sites for more information or the festival web site for the full festival program.
Event Dates
2017
      8th Apr
      9th Apr
Canberra District and surrounding regions
Murrumbateman, NSW, 2582
Located 0.1K from Murrumbateman
Australian Cool Climate Wine Show
The Australian Cool Climate Wine Show began its life in 1999 and was born out of the vision and commitment that a small band of local grape growers and winemakers had to create a wine show that was truly dedicated to benchmarking the unique wine styles produced from cool climate wine regions.
Bookings are essential. Bookings and price enquiries can be made on the phone number provided.
Event Dates
2016
      19th Sep
      20th Sep
      21st Sep
      22nd Sep
      23rd Sep
      24th Sep
19 East Street
Murrumbateman, NSW, 2582
Located 0.1K from Murrumbateman
The Tradies Murrumbateman Moving Feast
Tantalise your taste buds with the Murrumbateman Moving Feast, a roving degustation of fine local wines matched with delicious tasting plates.
The Murrumbateman Moving Feast takes place over the October long weekend, showcasing the best of Murrumbateman's local wineries, each offering a main meal and/or dessert, perfectly matched with one of their wines.
Come along, indulge a little, and meet the makers behind the region's fantastic wines!
Complimentary wine and Moving Feast wine glass with every dish.
Event Dates
2016
      1st Oct
      2nd Oct
Barton Highway
Murrumbateman, NSW, 2582
Located 0.2K from Murrumbateman
Festival of Flavour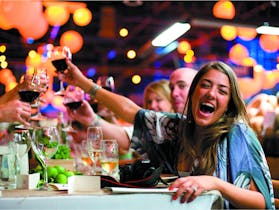 An event that seduces all the senses. A great weekend of food, wine, beer and music- taste the best from the Canberra region. Enjoy cooking classes, wine talks and top off the event with the Long Table Banquet!
Event Dates
2016
      29th Oct
      30th Oct
Barton Highway
Murrumbateman, NSW, 2582
Located 1.1K from Murrumbateman
Murrumbateman Village Market
Murrumbateman Village Market is a friendly market close to Canberra and Yass on the Barton Highway specialising in local fresh food and crafts.
Fruit and vegetables, bread, cakes, pastries, jams, honey, sauces, chillies, beef, salami, olives and olive oil, native plants and produce from local gardens are on offer. A number of local wineries are also represented plus pottery and other crafts.
Go and have a coffee with them, relax and enjoy the ambience and perhaps take in a local vineyard for lunch.
For more information about this event, visit their website.
Event Dates
2016
      23rd Apr
      14th May
      28th May
      11th Jun
      25th Jun
      9th Jul
      23rd Jul
Barton Highway
Murrumbateman, NSW, 2582
Located 1.1K from Murrumbateman