Yarra: Where To Go / Sightseeing
Big Merino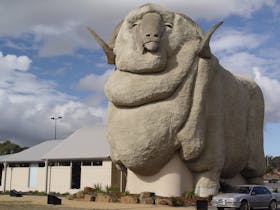 The Big Merino is located just off Goulburn's southern exit and stands proud as a symbol of Goulburn - 'the Fine Wool Capital of the World'.
This unique 'big' attraction also houses an exhibition on the 200 year history of wool in Australia.
The gift shop displays an eclectic range of quality gift wear - featuring quality products made from fine Australian merino wool, Australian souvenir items and locally made products such as baby bassinettes and cot blankets, verjuice, soaps, olive oils, jams, chutneys and sauces.
Hume Street,
Corner of Sowerby Street
Goulburn, NSW, 2580
Located 6.3K from Yarra
Goulburn Antiques and Collectables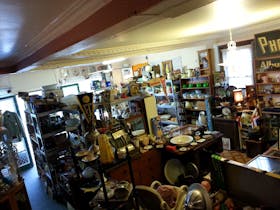 Goulburn Antiques and Collectables Store is a family owned and run business located in the beautiful city of Goulburn.
Specialising in buying and selling a large range of vintage, retro, art deco, collectable and antique items (as well as everything in between)!
Drop in to their store - who knows what treasures you may find?
14 Hume Street
Goulburn, NSW, 2580
Located 7.5K from Yarra
Goulburn Aquatic and Leisure Centre
Goulburn Aquatic and Leisure Centre is working to create a vibrant community partnership in building strong people, strong families and strong communities.
They have much more than equipment and programs to help you maintain your health and fitness, it's about achieving your goals with the full support of friendly, qualified staff.
Facilities include a heated indoor 25 metre pool (with baby and toddler sections), heated outdoor 50 metre pool, UV covered toddler and baby pool, free electric barbecues, and volleyball and handball courts.
YMCA Teem Gym is a fully supervised program aimed at teens aged 11 to 17 years. A great way to make new friends and get active. Suitable for everyone. Join today.
85 Deccan Street
Goulburn, NSW, 2580
Located 7.7K from Yarra
Goulburn Skate Park
Goulburn Skate Park is over 1200 square metres of concrete and steel. There are quarter pipes, bowls, grid blocks, rails, steps and platforms. Built by Dorfus and the crew from Convic, it's the best skate park in the region. Skateboard.com gives it a five star rating and writes 'heaps of nice transitioned sections including over vert nodule, fair few rails, ledges and banks.'
Victoria Park also includes other recreation facilities including Goulburn Aquatic Centre, children's playground, tennis courts, Sieffert Oval (cycle track and cricket), Prell Oval (cricket) and rose gardens.
Goulburn Skate Park is for skateboards, rollerblades, rollerskates, scooters and bicycles.
Daylight use only.
Goulburn Mulwaree Council wishes to advise that skating is a high risk sporting activity. Use of the facility is at your own risk. Wear the gear! Riders must use equipment appropriate to their ability. Safety equipment is to be worn at all times.
Deccan Street,
Victoria Park
Goulburn, NSW, 2580
Located 7.8K from Yarra
Victoria Park Rose Garden
Walk among the roses in the magnificent Victoria Park rose garden in Goulburn. The garden includes some 1,500 roses of 100 varieties. All the roses are named for easy identification.
Picnic tables and barbecue facilities can be accessed from Faithfull Street.
There is an oval, playground, bicycle tracks and preschooler bicycle park available nearby.
Collect your copy of the 'Goulburn City of Roses' self-guided tour from the Goulburn Visitor Information Centre.
Clifford Street ,
Corner of Deccan Street
Goulburn, NSW, 2580
Located 8.1K from Yarra
Garroorigang Historic Home
Garroorigang Historic Home was built in 1857 and contains an unparalleled collection of original furnishings and items of historical interest covering 150 years of Australian history. It is a lived in home, not a museum. Built as an inn on the road to the goldfields, and then serving up to 1883 as a private boarding school for the "sons of gentlemen", the homestead today is the private home of the Hume family, descendants of the explorer Hamilton Hume.
Guided tours through the home are provided by members of the family who explain its history and the story behind its many treasures. The homestead is set in beautiful grounds suitable for picnics and morning/afternoon teas. Bed and breakfast accommodation is available by arrangement.
A visit to Garroorigang is a step back in time and fascinating for all ages. Coaches and groups by appointment.
209 Braidwood Road
Goulburn, NSW, 2580
Located 8.1K from Yarra
Yarra: Events
Streamliners
Save the date for this exciting one-off event which will be staged at the Goulburn Rail Heritage Centre.
In October 2016, the Goulburn Rail Heritage Centre will be celebrating 65 years of Streamlined locomotives in Australia.
More than two dozen locomotives in a ton of colour schemes,owned by numerous operators, will be on display.
It will be your chance to ride open window carriages as you take in the sounds of first generation diesels or ride the Southern Aurora through the night.
Barbecues, fog and laser light shows, along with a fireworks display, are some just some of the activities planned for this three day extravaganza. This is an international event not to be missed by rail fans from around the world.

Event Dates
2016
      1st Oct
      2nd Oct
      3rd Oct
Goulburn Rail Heritage Centre,
12 Braidwood Road
Goulburn, NSW, 2580
Located 7.6K from Yarra
Goulburn Rodeo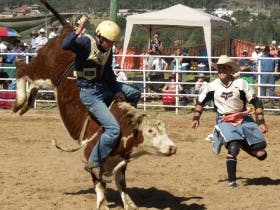 The Goulburn Rodeo is held in February each year and is one of the oldest running rodeos in Australia. The club is affiliated with the Australian Bushman's Campdraft Rodeo Association and the Southern Zone Rodeo Association.
Goulburn Rodeo is judged to be one of the best run and most popular rodeos in Southern NSW, judged by the riders, officials and the spectators.
Rodeo is one of the oldest and toughest sports in Australia. The cowboys and cowgirls that attend the rodeo are fit athletes and travel large distances to put on a show for you.
Goulburn Showground,
Braidwood Road
Goulburn, NSW, 2580
Located 8.1K from Yarra