Bagnoo: Where To Go / Sightseeing
Timbertown Heritage Theme Park
Step back in time with a visit to Timbertown Wauchope, where you can ride the steam train, experience the bullocky display, observe the timber craftsmen at work and smell the coals of the blacksmith.
Set amongst 87 acres of natural forest, Timbertown is an entire village, re-created to demonstrate the struggles and achievements of Australia's pioneers.
It's an authentic heritage township, where the steam train still runs, timber is still sawn, and the bullock team still hauls its heavy load. You'll smell the distinctive aroma from the steam engines, the smell of sawn timber, and the lure of freshly baked bread and hot roast beef.
Timbertown is considered by many to be one of Australia's finest heritage parks. Since opening in 1976, approximately 2,000,000 people have visited Timbertown from all parts of Australia and from around the world.
Timbertown's Cedar Creek Goldfield is a welcome addition to the park.
2325 Oxley Highway
Wauchope, NSW, 2446
Located 16.4K from Bagnoo
Mount Boss State Forest
Only a short drive from Wauchope, Mount Boss State Forest is the local's secret spot!
Cobrabald visitor areas offer two separate camping areas. Wild Bull is the larger of the two, with barbecue facilities, picnic shelter and a deep, cool waterhole just perfect for a summer dip - it's also home to some catfish! Further down river, the Bluff Picnic Area features interesting rock formations, swimming holes and a quiet, secluded spot perfect for couples or small groups.
Cobrabald Road
Wauchope, NSW, 2446
Located 18.9K from Bagnoo
Cedar Creek Goldfield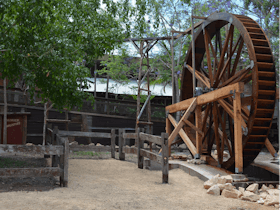 Cedar Creek Goldfield is now operational! With a gold stream fed by their very unique wooden waterwheel you can spend as much time as you want panning for gold. Experience what it was like during the gold rush as a miner and lose yourself amongst the original old steam engines in the Cedar Creek Steam CO-OP!
The goldfield is already a wonderful new addition to the park and there is still more to come for the new precinct with displays. Come along and try your luck at gold panning, you can keep all the gold you find!
2325 Oxley Highway
Wauchope, NSW, 2446
Located 19.3K from Bagnoo
Bagnoo: Events
Thomas the Tank Engines Timbertown Adventure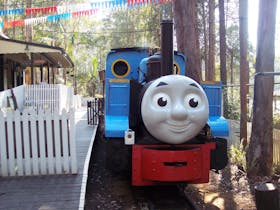 *** Latest event details are yet to be confirmed ***
Thomas the Tank Engines' Timbertown Adventure will be three days packed full of Thomas fun! Tickets include unlimited Steam Train rides behind Thomas the Tank Engine as well as unlimited rides on the Horse and Carriage, Mini Steam Train, and all other amusement rides operating on the day!
Endless fun with Face Painting, Story Telling, Jumping Castle and a Mini Stage Show starring the Fat Controller, with the opportunity to meet and have your photo taken with him. Thomas' friends Cranky the Crane, George the Steam Roller and Rosie will also join in on the fun! With extra costs after entry besides food and souvenirs at value for money prices.
Event Dates
2015
      2nd Oct
      3rd Oct
      4th Oct
2016
      2nd Oct
      3rd Oct
      4th Oct
2325 Oxley Highway
Wauchope, NSW, 2446
Located 16.4K from Bagnoo
Timbertown Annual Steam Fair
*** Latest event details are yet to be confirmed ***
It's back! Timbertown's Annual Steam Fair, incorporating Steam Festival and featuring the Cedar Creek Goldfield Steam Co-op, will be taking place on 3, 4 and 5 July, 2015.
It's bigger and better every year with more engines and lots of entertainment! A couple things to expect this year include the fairground organ, camp oven cooking, 12 noon parades and traction engine rides!
Event Dates
2015
      3rd Jul
      4th Jul
      5th Jul
2016
      3rd Jul
      4th Jul
      5th Jul
2325 Oxley Highway
Wauchope, NSW, 2446
Located 16.4K from Bagnoo
Comboyne Village Fair
*** Latest event details are yet to be confirmed ***
Diverse and innovative village fair with something to offer for all ages.
Stunning flower displays, live music, art and garden exhibitions, Japanese garden cafe, specialist and historic vehicles, great food. Relax with family and friends.
Red Plateau Instant Garden Competition, Floral Display, Fine Artists' Exhibition, Car Club Capers, The Timbertown Steam and Oil Engine Club Exhibition, Remote Control Spectacular, Buskers, Troppo Bob, Green Fiddle Band, Crazy Hair, Craft, Painting, Chalk Paver Art, Sandpit, Skittles, Free tea and coffee and a place to sit, Cakes and Slices for sale
Parking available at the showground with a free shuttle bus from the showground all day.
If you are at this great event, don't forget to visit the Greater Port Macquarie's Facebook page and tag them.
Event Dates
2015
      13th Sep
2016
      13th Sep
.
Comboyne, NSW, 2429
Located 16.7K from Bagnoo
Comboyne Agricultural Show, Champion Dog Show and Mountain Goat Races
The Comboyne Show not only offers a unique program of Mountain Goat Racing but all the features of a traditional Australian Agricultural Show.
Among the pavilion exhibits visitors will see a high standard of entries in art, craft, photography, cooking, produce, flowers, and the Poultry Show. See the Comboyne Championship Dog Show on the western side of the showground.
A full program of entertainment for all ages includes great fun rides for the kids, face painting and performances.
Relax in the shady marquees. Browse the market stalls and enjoy Comboyne's famous country cooking with tearoom cakes, salads rolls, devonshire teas, the big Country Barbecue - plus pancakes, great coffee, and ice cream.
What more could you want?
Event Dates
2016
      20th Feb
      21st Feb
Showground Road
Comboyne, NSW, 2429
Located 17.2K from Bagnoo
Wauchope Farmers Market
The Wauchope Farmers' Market is held on the fourth Saturday of the month.
The Wauchope Farmers' Market provides an opportunity for local farmers and food producers to sell a large variety of produce and hand crafted gourmet food products direct to the public.
It is a well established community market built on a philosophy of providing the freshest, the best, and the healthiest alternatives to the community, with produce and product often hand-picked the day before the market.
Event Dates
2015
      28th Mar
      25th Apr
      23rd May
      27th Jun
      25th Jul
      22nd Aug
      26th Sep
      24th Oct
      28th Nov
      26th Dec
2016
      23rd Jan
      27th Feb
      26th Mar
      23rd Apr
      28th May
      25th Jun
High Street
Wauchope, NSW, 2446
Located 18.2K from Bagnoo
Wauchope Show
***LATEST EVENT DETAILS ARE YET TO BE CONFIRMED***
Like all show societies throughout Australia, the members of the Wauchope Show Society Committee, its directors, stewards, life members and other community members work tirelessly to present events at the Wauchope Showground
These members present a traditional, yet modern showground that is well maintained and is the pride of the local and extended community.
The Wauchope Show is an event that helps promote agriculture and farming within the district. It is a community event that offers a range of things to see and do for everyone. They have the traditional horse, cattle, poultry, goat and hall sections along with the sideshow rides.
They also have an animal nursery, harness racing, fireworks dog tails and much more.
Event Dates
2017
      1st Apr
      2nd Apr
93a High Street
Wauchope, NSW, 2446
Located 18.2K from Bagnoo
Grape Stomping Championships
Join the public Annual Grape Stomping Championships and regular Sunday Jazz in the Vineyards. Teams of two jump in wooden barrels to see how much juice they can stomp out of 10 kilograms of grapes in 60 seconds. You could see your name added to the grape stomp honour board at the Cellar Door and become part of Bago Vineyard history.
The fun doesn't stop there, get lost in the biggest hedge maze in the southern hemisphere. So, bring along your picnic rugs and umbrellas, pick a spot on the lush rolling lawns, and settle in for a great day.
Event Dates
2016
      14th Feb
Bago Road
Wauchope, NSW, 2446
Located 18.9K from Bagnoo