Coomba: Where To Go / Sightseeing
One Mile Beach
The stretch of beach known as One Mile is located in the residential area of Forster and is extremely popular with surfers and families. Patrolled during the holidays and on weekends the beach is bordered by a large park with barbecue, picnic facilities and playground equipment.
The northern end is the access to Bennett's Head lookout where 360 degree views of the area can be enjoyed. It also boasts Giant Sandhill ,popular for sand sliding and boarding.
Plus there's a stretch of white sand where dolphins can regularly be seen surfing the waves in the clear water.
Underwood road
Forster, NSW, 2428
Located 7.8K from Coomba
Forster Town Beach
Forster Main Beach is located on North Street.
The beach fronts an area of 563 metres from Forster Breakwall to the Forster Ocean Baths. It is a protected beach, making it ideal for families. There is generally not large surf, but if it does get big it has adjacent ocean baths.
Forster Surf Club is located here and it is framed by Pilot Hill and Second Head, both of which offer nice walking trails.
North Street
Forster, NSW, 2428
Located 8.1K from Coomba
Boomerang Beach
Renowned for its excellent surfing waves, Boomerang beach is a popular family beach for those holidaying in the Pacific Palms area.
Ringed in the north by Booti Booti National Park the headland and rocky outcrop provides ideal snorkelling, rock pools and shelter, whilst the southern headland is responsible for the ideal waves surfers enjoy.
The crystal clear waters, white sand and frolicking dolphins make this an ideal family beach, particularly in summer holidays when the beach is patrolled.
Boomerang Drive,
Pacific Palms
Boomerang Beach, NSW, 2428
Located 12.5K from Coomba
Coomba: Events
Challenge Forster Triathlon Festival
*** Latest event details are yet to be confirmed ***
Challenge Forster is set to excite and thrill athletes from across Australia and overseas with the Challenge Family feel that is famous around the globe. Get set for an experience of a lifetime as an expected field of over 1000 triathletes race on the course where it all began.
Challenge Forster also offers family and friends of athletes the perfect get away. Whether it is for a week or just the weekend Forster - Tuncurry is a scenic playground with a mountain of holiday activities to enjoy.
Part of a weekend of triathlon festivities including the kids triathlon, teams relay, Enticer and Sprint triathlons, Challenge Forster will be on the top of the must do list for the 2015-16 season.
For more info check out their website.

Event Dates
2015
      7th Nov
      8th Nov
2016
      7th Nov
      8th Nov
Forster Keys
Forster, NSW, 2428
Located 5.6K from Coomba
Opera by the Lake
The Rotary Club of Great Lakes and the Great Lakes Creative Network have come together to bring you an afternoon full of culture by the beautiful Wallis Lake - an Opera Gala to remember with arias and ensembles from the world's most adored operas.
You'll recognise tunes you've always known with sublime favourites from Carmen, Rigoletto, La Boh?me, Don Giovanni, Madama Butterfly, The Magic Flute and more.
In the beautiful setting of Tuncurry's John Wright Park, this operatic celebration is presented by Opera Bites in their usual style - an engaging combination of light-hearted banter, joie de vivre and sublime tunes.
Tickets are also available from the Forster Visitor Information Centre, Little Street, Forster. Monday to Friday 9am-5pm, Saturday and Sunday 9am-4pm.
No cancellation or refund available for ticket purchases. Booking fees apply.
Event Dates
2016
      19th Mar
John Wright Park
Tuncurry, NSW, 2428
Located 7.5K from Coomba
Lakeside Festival
*** Latest event details are yet to be confirmed ***
The Lakeside Festival is a feast of music, art, food and wine. Chilling with a glass of vino and scrumptious food. A day listening to some hot tunes, to suit all tastes with gorgeous lake views at Forster - Tuncurry.
Funky art, cool exhibits/displays, kids entertainment and you have a great day out for the whole family. Free local shuttle bus available and all for just AUD10 with under 16's free. Bring a chair or throw down a picnic rug and enjoy this unique, boutique music festival.
Make a weekend of it with a family friendly "Movies under the Stars" by the lake on Friday evening October 30. Bring the family to the picturesque Wallis Lake foreshore, grab some dinner and a glass of wine from one of the local producer stalls. Gates open at 6pm the movie screens at 7.30pm when the stars come out.
Event Dates
2015
      31st Oct
2016
      31st Oct
Manning Street
Tuncurry, NSW, 2428
Located 7.5K from Coomba
Jeff Wilcox Memorial Bodyboarding Comp
*** Latest event details are yet to be confirmed ***
The Jeff Wilcox Memorial returns to the Great Lakes!
The Jeff Wilcox Memorial which started as a simple bodyboarding competition, has quickly evolved into one of the most respected and prestigious competitions held in the sport of bodyboarding. From day one this memorial set out to showcase the life and enthusiasm for the water and friendly competition that Jeff had, and it has succeeded in abundance.
Drawing some of the worlds best bodyboarders and talented locals, the event has a renowned respect amongst top performing competitors. Past winners include Ash Murray, Troy De Coque, Ben Holland, Ben Player, Andrew Lester, Damien King, Levi Wagner and Mitch Rawlins to name a few.
Coaching clinics will also be held over the weekend.
Event Dates
2015
      24th Jul
      25th Jul
      26th Jul
2016
      24th Jul
      25th Jul
      26th Jul
North Street
Forster, NSW, 2428
Located 7.9K from Coomba
Forster Adventure Race and Junior Spirit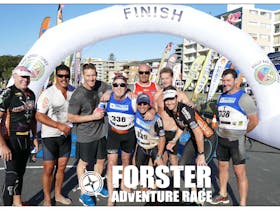 Experience the most stunning multisport race on the East Coast and tackle the Forster Adventure Race.
The 67 kilometre course has something for everyone and promises to deliver a unique adventure experience, taking you across some of the most challenging and scenic landscapes the Great Lakes has to offer. Swim in the clear waters off Pacific Palms, run around rugged escarpments and forests, mountain bike through green forests with a mix of trails and single track, paddle on pristine Wallis Lake, around islands and finally run across the renowned Forster Tuncurry bridge to finish on Main Beach.
There is also the Junior Spirit Super Kids obstacle race a unique event just for kids.
If you are into adventure, looking for a challenge, or love the outdoors then this is the weekend for you. Get your gear sorted, entry in, grab some friends, book your accommodation and lock it in!

Event Dates
2016
      7th May
North Street
Forster, NSW, 2428
Located 8.0K from Coomba
Komunity Project Great Lakes Pro
Promising professional surfers from all over the world can look forward to four new World Surf League (WSL) Qualifying Series (QS) 1000 events, when the NSW Pro Surf Series kicks off on the NSW coastline in early 2016.
Thanks to a successful partnership between Surfing NSW, WSL, Destination NSW and NBN Television, four events (male and female) are slated to take place at Maroubra Beach, Cabarita Beach, Avoca Beach and Boomerang Beach over the next three years.
The "Komunity Project Pro" is the land stop of the NSW Pro Surf Series at Boomerang Beach.
The NSW Pro Surf Series has been developed for Australian and International surfers to gain ranking points and prize money on the WSL Qualifying Series. The Series also creates a NSW coastal road trip for all to explore the variety of waves, visit local communities and enjoy NSW surfing culture.
Event Dates
2016
      15th Feb
      16th Feb
      17th Feb
      18th Feb
Boomerang Drive
Boomerang Beach, NSW, 2428
Located 13.2K from Coomba