Gum Scrub: Where To Go / Sightseeing
Stoney Park Waterski Wakeboard Park
World famous Stoney Park is situated at Telegraph Point, which is about 15 minutes north of beautiful Port Macquarie. At Stoney Park, they have created the ultimate skiers paradise, with two man made lakes which are fully equipped with slalom courses, jumps, sliders and kicker ramps. The lakes have been specifically designed at right angles to each other, to allow for optimum skiing conditions behind the two powerful, sleek MasterCraft Pro Star performance defining ski boats.
Stoney Park is home to many international champions in slalom, trick and jump and is a popular training destination for American, Asian and New Zealand skiers.
When you're not skiing, Port Macquarie is known for many famous tourist destinations, from visiting the Billabong Koala and Wildlife Park, to surfing at world famous beaches.
16 Hacks Ferry Road
Telegraph Point, NSW, 2441
Located 9.7K from Gum Scrub
Fruit Salad Tree Company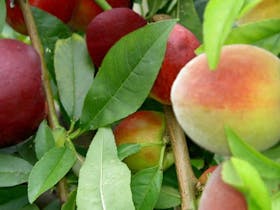 A fruit salad tree, developed by the West family, who established the Fruit Salad Tree Company in 1990, in New England, New South Wales, bears up to six different fruits of the same family on the one plant. All fruits retain their own individuality, with staggered ripening times.
The Fruit Salad Tree can be grown in the ground as for normal fruit trees, or in pots for those people with very limited space. Instead of having numerous different trees with more fruit than your household can consume there is only one tree with all of the fruits ripening naturally over a period of months. There can be more than one variety of an individual fruit on a tree, thus extending the picking time.
Visit the orchard and purchase your own Fruit Salad Tree. See how they are grafted and put together for one tree with many varieties of fruit.
596 Littles Loop Road
Rollands Plains, NSW, 2441
Located 11.0K from Gum Scrub
Banyandah Studio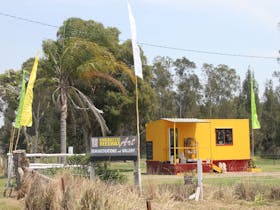 Situated less than 15 minutes from Crescent Head, Banyandah Studio offers beautiful surroundings including a working Alpaca Farm and fruits in season.
The ancient form of Encaustic Art using beeswax as paints is demonstrated on site. Also, contemporary art featuring surfing and local landscape are available for sale. It is also the home of 6Ps Surf Films where from time to time editing takes place, and can also be demonstrated.
You are always welcome to come and enjoy a relaxing atmosphere in lush coastal surroundings.
1248 Maria River Road
Crescent Head, NSW, 2440
Located 13.8K from Gum Scrub
Scott Jackson Artworks
Artists' Studio and Gallery in a bush setting displaying paintings, prints and cards by Australian Artist Scott Jackson.
Scott Jackson is an Australian Artist living near Crescent Head on the mid north coast of New South Wales. Here he is lucky to have the bush, beach and sea to be inspiration for creating paintings.
Please phone first to visit studio/gallery.
122 Wortley Drive
Crescent Head, NSW, 2440
Located 18.4K from Gum Scrub
The Slim Dusty Centre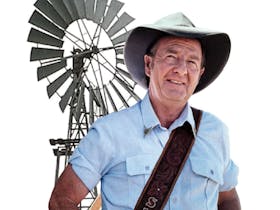 Visit this innovative museum dedicated to Australia's iconic legend Slim Dusty, and experience a wealth of music history and Australian culture and art. Slim's dream was to provide a venue for music and cultural opportunities for all Australians to participate in and enjoy, and as a showcase for international tourists to visit.
The Slim Dusty Centre and Museum is housed in a stunning architect designed space, situated in a natural bushland setting. The Centre encapsulates the; Slim Dusty Museum, Theatrette, Recording Studio, Touring Gallery, Cafe, Function Centre and merchandise shop.
The Slim Dusty Centre is suitable for all ages with easy access for wheelchairs and prams and easy parking for coaches and caravans. Slim Dusty Centre staff and volunteers will make your visit to the Slim Dusty Centre unforgettable. They can tailor your visit with tours of the museum with morning tea or lunch to suit your special group.
490 Macleay Valley Way
South Kempsey, NSW, 2440
Located 19.5K from Gum Scrub
Abundance Lifestyle and Garden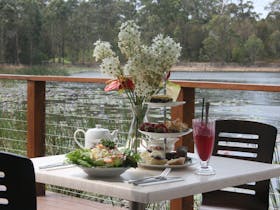 Abundance Lifestyle and Garden is a cafe and garden centre with peace and quiet and a beautiful water front setting. It is situated only 15 minutes from central Port Macquarie. Abundance is owned and run by locals who have 30 years experience in the nursery and hospitality industries.
The cafe has delicious and healthy cafe-style food, organic fair trade coffee, and home made cakes. A range of diets is catered for, just ask. Both outside and inside seating have views of the beautiful lily covered lake.
The garden centre sells a diverse range of plants and garden supplies at great prices because the majority of plants are grown onsite at the wholesale nursery. Tours of the nursery are provided free with advanced booking.
274 Rawdon Island Road
Sancrox, NSW, 2446
Located 19.9K from Gum Scrub
Gum Scrub: Events
Kristin Hardiman Exhibition - Slim Dusty Centre
The Nulla Nulla Gallery launches the Kristin Hardiman exhibition on Anzac Day. Kristin's talents as a painter are extraordinary and, are not limited to a particular genre or medium. Her skills as a portrait, landscape, and equine artist have been recognised in the many art prizes she has been a finalist in, or won.
The Nulla Nulla Gallery exhibition will showcase the diverse range of Kristin's talents in painting, drawing and sculpture, featuring all her specialty genres of portraiture, equine and seascapes. Kristin currently works as a tutor at the Sydney Art School, and has taught HSC art for 15 years out of her 30 years of teaching art in schools.
As part of the exhibition programme, Kristin will run a half day drawing workshop in portraiture on Saturday May 21st. For more information email Curator Julia Morrell.
Event Dates
2016
      27th May
      28th May
      29th May
      30th May
      31st May
490 Macleay Valley Way
South Kempsey, NSW, 2440
Located 19.6K from Gum Scrub
Grape Stomping Championships
Join the public Annual Grape Stomping Championships and regular Sunday Jazz in the Vineyards. Teams of two jump in wooden barrels to see how much juice they can stomp out of 10 kilograms of grapes in 60 seconds. You could see your name added to the grape stomp honour board at the Cellar Door and become part of Bago Vineyard history.
The fun doesn't stop there, get lost in the biggest hedge maze in the southern hemisphere. So, bring along your picnic rugs and umbrellas, pick a spot on the lush rolling lawns, and settle in for a great day.
Bago Road
Wauchope, NSW, 2446
Located 20.7K from Gum Scrub