Hollisdale: Where To Go / Sightseeing
Timbertown Heritage Theme Park
Step back in time with a visit to Timbertown Wauchope, where you can ride the steam train, experience the bullocky display, observe the timber craftsmen at work and smell the coals of the blacksmith.
Set amongst 87 acres of natural forest, Timbertown is an entire village, re-created to demonstrate the struggles and achievements of Australia's pioneers.
It's an authentic heritage township, where the steam train still runs, timber is still sawn, and the bullock team still hauls its heavy load. You'll smell the distinctive aroma from the steam engines, the smell of sawn timber, and the lure of freshly baked bread and hot roast beef.
Timbertown is considered by many to be one of Australia's finest heritage parks. Since opening in 1976, approximately 2,000,000 people have visited Timbertown from all parts of Australia and from around the world.
Timbertown's Cedar Creek Goldfield is a welcome addition to the park.
2325 Oxley Highway
Wauchope, NSW, 2446
Located 17.1K from Hollisdale
Mount Boss State Forest
Only a short drive from Wauchope, Mount Boss State Forest is the local's secret spot!
Cobrabald visitor areas offer two separate camping areas. Wild Bull is the larger of the two, with barbecue facilities, picnic shelter and a deep, cool waterhole just perfect for a summer dip - it's also home to some catfish! Further down river, the Bluff Picnic Area features interesting rock formations, swimming holes and a quiet, secluded spot perfect for couples or small groups.
Cobrabald Road
Wauchope, NSW, 2446
Located 18.8K from Hollisdale
Cedar Creek Goldfield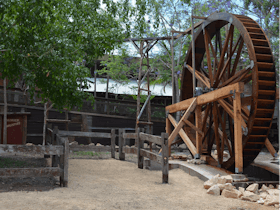 Cedar Creek Goldfield is now operational! With a gold stream fed by their very unique wooden waterwheel you can spend as much time as you want panning for gold. Experience what it was like during the gold rush as a miner and lose yourself amongst the original old steam engines in the Cedar Creek Steam CO-OP!
The goldfield is already a wonderful new addition to the park and there is still more to come for the new precinct with displays. Come along and try your luck at gold panning, you can keep all the gold you find!
2325 Oxley Highway
Wauchope, NSW, 2446
Located 19.2K from Hollisdale
Fruit Salad Tree Company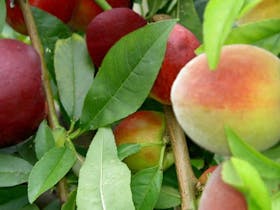 A fruit salad tree, developed by the West family, who established the Fruit Salad Tree Company in 1990, in New England, New South Wales, bears up to six different fruits of the same family on the one plant. All fruits retain their own individuality, with staggered ripening times.
The Fruit Salad Tree can be grown in the ground as for normal fruit trees, or in pots for those people with very limited space. Instead of having numerous different trees with more fruit than your household can consume there is only one tree with all of the fruits ripening naturally over a period of months. There can be more than one variety of an individual fruit on a tree, thus extending the picking time.
Visit the orchard and purchase your own Fruit Salad Tree. See how they are grafted and put together for one tree with many varieties of fruit.
596 Littles Loop Road
Rollands Plains, NSW, 2441
Located 20.1K from Hollisdale
Hollisdale: Events
Wauchope Farmers Market
The Wauchope Farmers' Market is held on the fourth Saturday of the month.
The Wauchope Farmers' Market provides an opportunity for local farmers and food producers to sell a large variety of produce and hand crafted gourmet food products direct to the public.
It is a well established community market built on a philosophy of providing the freshest, the best, and the healthiest alternatives to the community, with produce and product often hand-picked the day before the market.
Event Dates
2016
      25th Jun
High Street
Wauchope, NSW, 2446
Located 18.1K from Hollisdale
Grape Stomping Championships
Join the public Annual Grape Stomping Championships and regular Sunday Jazz in the Vineyards. Teams of two jump in wooden barrels to see how much juice they can stomp out of 10 kilograms of grapes in 60 seconds. You could see your name added to the grape stomp honour board at the Cellar Door and become part of Bago Vineyard history.
The fun doesn't stop there, get lost in the biggest hedge maze in the southern hemisphere. So, bring along your picnic rugs and umbrellas, pick a spot on the lush rolling lawns, and settle in for a great day.
Bago Road
Wauchope, NSW, 2446
Located 18.8K from Hollisdale