Hyland Park: Where To Go / Sightseeing
Nambucca Heads Beach
Nambucca Heads is the accommodation and entertainment hub of the Nambucca Valley region and neighbouring beach communities, with beaches well suited for beginner surfers.
Mostly small, forgiving waves can be had here, best when the sandbanks are set up along Main Beach and Swimming Creek.
Nambucca also has a picturesque river estuary, a joy for fisher folk and anyone with a fancy for kayaking or canoeing.
Nambucca Heads Beach
Nambucca Heads, NSW, 2448
Located 2.8K from Hyland Park
V-Wall Outdoor Gallery, Nambucca Heads
Leave your personal message on this outdoor breakwall gallery. Everyone is encouraged to paint a rock at the legendary V-Wall Nambucca Heads to leave their holiday messages, inspirational words, and memories. This creative space provides a great read with comments from locals as well as visitors from around Australia and across the globe. Walk along the boardwalk from the Visitor Information Centre meandering along the riverside passed Bellwood Park down to 'The Glen' to the V-Wall at the river mouth. Parking available.
1 Wellington Drive
Nambucca Heads, NSW, 2448
Located 3.3K from Hyland Park
Nambucca River Golf Driving Range
The Nambucca River Tourist Park has the Nambucca Valley's only golf driving range. Located within the Nambucca River Tourist Park , the range is open to the public seven days a week 8am to 5.30pm (weather permitting).
There is a grass teeing ground and distance markers from 50 metres to 250 metres, easy access and an undercover seating area. A loyalty program is available for regular visitors.
No booking required.
Go to reception at park entry for all enquiries and for entry to the range. All children must be supervised and accompanied by an adult.
143 Nursery Road
Macksville, NSW, 2447
Located 11.6K from Hyland Park
Hyland Park: Events
Nambucca Body Mind and Soul Festival
With a range of Alternative stalls, Crystals, Himalayan Salt lamps and products ,Gifts,Candles, Oracle cards, Books, Tye dyed clothes. Psychics, Clairvoyants, Tarot readers, Reconnective healing, Aura Photos, Spirit Artist, Honey and Bees wax candles, and much, much more. Workshops may be available.
Also, their Psychic, Healing and Channelling night is a great opportunity to do psychic work together.
Event Dates
2016
      20th May
      21st May
      22nd May
Nelson Street
Nambucca Heads, NSW, 2448
Located 3.2K from Hyland Park
Nambucca River Festival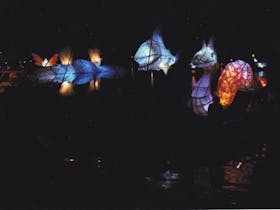 *** Latest event details are yet to be confirmed ***
The Nambucca River Festival showcases the richness and diversity of the beautiful Nambucca Valley.
Macksville's River Street will be transformed into an entertainment precinct centred on the innovative River Stage where you can watch high energy water activities on the river (like the top class water ski show) and enjoy the great on stage entertainment available, all tightly scheduled into one continuous show and viewed from the same vantage point. All this close to stalls where you can taste the best of locally produced food and wines.
Saturday evening will again be a highlight - most of last years favourite colourful light-sculpture lanterns will be back (plus another five brand new ones) as will the beautiful fireworks over the river - spectacular! New this year is the addition of a band on the River Stage following the fireworks where you can dance the night away with a musical street party.
Event Dates
2015
      28th Nov
      29th Nov
2016
      28th Nov
      29th Nov
Nambucca River Festival
Macksville, NSW, 2447
Located 12.6K from Hyland Park
Toast Urunga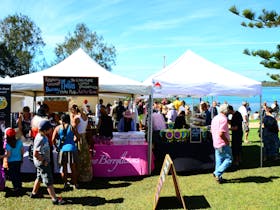 *** Latest event details are yet to be confirmed ***
Eat, drink and be merry this Father's Day! Bask in the beauty of Urunga, where the Bellinger and Kalang rivers meet the sea.
The 70 plus stalls at this year's Toast Urunga festival feature fresh food delicacies from around the world. Your taste buds will travel from Australia to Spain, Vietnam, Japan and Africa in a single day.
Take Dad to see the vintage cars on display or a cooking demonstration by celebrity chef, Terase Davidson.
Put smiles on the kid's faces with sand wizardry, kids karaoke, jumping castle, bungy trampoline, famous Smiley personalities, a magic show, face and plaster painting.
Delight the family foodies by visiting the North Coast Holiday Parks - learn how to make your own cheese with The Cheesemaking Workshop.
Or just lie back on a rug and listen to The Bostocks, Minnie Marks, Hornet, Honey and Knives, Sandra Clark and many more.
Event Dates
2015
      6th Sep
2016
      6th Sep
Morgo Street
Urunga, NSW, 2455
Located 13.0K from Hyland Park
Carols Urunga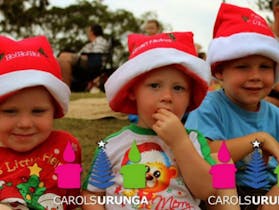 Commencing at 5pm the Carols Urunga evening will be one of song, entertainment, food, fireworks and lots of fun for all. There will be a variety of wonderful foodies with a barbecue and sausage sizzle plus a variety of food and drink stalls. The arrival of Santa always brings much excitement.
Bring a chair or rug to sit on.
Event Dates
2016
      17th Dec
2 Morgo Street Reserve
Urunga, NSW, 2455
Located 13.2K from Hyland Park
ArtUrunga - Sculpture In The Park
*** Latest event details are yet to be confirmed ***
Visit ArtUrunga's Sculpture in the Park Festival in January.
An exhibition of over 30 sculptures, displayed in Urunga's beautiful riverside park for all to enjoy. Prizes, including a 'People's Choice for Best Sculpture' will be awarded to winning artworks.
There will be live music on the outdoor stage, children's creative workshops, and food and beverages available. Bring the family and a picnic rug for an enjoyable day of fun and creativity.
For more information, visit the web site or contact David Southgate on the details supplied.
Event Dates
2016
      17th Jan
2017
      17th Jan
Morgo Street Reserve,
15 Morgo Street
Urunga, NSW, 2455
Located 13.5K from Hyland Park
Hyland Park: Travel Tips
Nambucca Valley Visitor Information Centre
The Nambucca Valley Visitor Information Centre provides a range of information for the tourist and traveller alike. Information on local and regional attractions, upcoming events, assistance with places to stay and other services as required. Maps and brochures are also available, together with a selection of souvenirs and other merchandise.
Corner Pacific Highway and Riverside Drive
Nambucca Heads, NSW, 2448
Located 4.2K from Hyland Park
Urunga Visitor Information Centre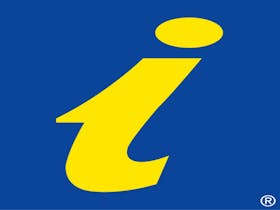 Call into the Urunga Visitor Information Centre and chat to the friendly staff for extensive information on Urunga and the Bellingen Shire.
Also available at the centre is an over-the-counter booking service for accommodation, coach and train travel.
The coastal town of Urunga is the gateway to superb beaches in the area, perfect for surfers, anglers and walkers.
Pacific Highway
Urunga, NSW, 2455
Located 12.2K from Hyland Park