Kundabung: Where To Go / Sightseeing
Scott Jackson Artworks
Artists' Studio and Gallery in a bush setting displaying paintings, prints and cards by Australian Artist Scott Jackson.
Scott Jackson is an Australian Artist living near Crescent Head on the mid north coast of New South Wales. Here he is lucky to have the bush, beach and sea to be inspiration for creating paintings.
Please phone first to visit studio/gallery.
122 Wortley Drive
Crescent Head, NSW, 2440
Located 7.1K from Kundabung
Banyandah Studio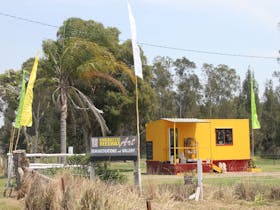 Situated less than 15 minutes from Crescent Head, Banyandah Studio offers beautiful surroundings including a working Alpaca Farm and fruits in season.
The ancient form of Encaustic Art using beeswax as paints is demonstrated on site. Also, contemporary art featuring surfing and local landscape are available for sale. It is also the home of 6Ps Surf Films where from time to time editing takes place, and can also be demonstrated.
You are always welcome to come and enjoy a relaxing atmosphere in lush coastal surroundings.
1248 Maria River Road
Crescent Head, NSW, 2440
Located 7.2K from Kundabung
The Slim Dusty Centre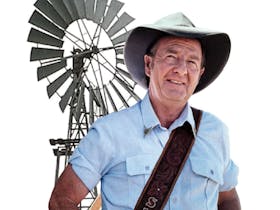 Visit this innovative museum dedicated to Australia's iconic legend Slim Dusty, and experience a wealth of music history and Australian culture and art. Slim's dream was to provide a venue for music and cultural opportunities for all Australians to participate in and enjoy, and as a showcase for international tourists to visit.
The Slim Dusty Centre and Museum is housed in a stunning architect designed space, situated in a natural bushland setting. The Centre encapsulates the; Slim Dusty Museum, Theatrette, Recording Studio, Touring Gallery, Cafe, Function Centre and merchandise shop.
The Slim Dusty Centre is suitable for all ages with easy access for wheelchairs and prams and easy parking for coaches and caravans. Slim Dusty Centre staff and volunteers will make your visit to the Slim Dusty Centre unforgettable. They can tailor your visit with tours of the museum with morning tea or lunch to suit your special group.
490 Macleay Valley Way
South Kempsey, NSW, 2440
Located 10.1K from Kundabung
Dunghutti Ngaku Aboriginal Art Gallery
The Dunghutti-Ngaku Aboriginal Art Gallery (DNAAG) is an Aboriginal gallery housed in the annex of the Kempsey Visitor Information Centre, designed by internationally renowned architect Glen Murcutt.
The gallery is nestled in parkland on the south side of Kempsey in the Macleay Valley on the Mid North Coast of NSW, and has been operational now for the past five years thanks to Indigenous Visual Arts Industry Support.
The aim of the gallery is to showcase and market works of prominent, established and emerging Aboriginal artists of the Dunghutti region and Mid North Coast area. Throughout this region there is a diverse selection of storytelling through artwork. Works are constantly changing as per the Exhibition Program.
Products include paintings, weaving, baskets, bush foods, cards, wood and textiles available for purchase.
Kempsey Visitor Information Centre
Kempsey, NSW, 2440
Located 12.4K from Kundabung
Kempsey Museum
Kempsey Museum features the history of the Macleay Valley from before white settlement to the present day, including a pioneer cottage furnished using historical items. Set in South Kempsey Park, next to Visitor Information Centre. Displays include aboriginal history, boot making, timber industry, military history, natural history, dairy industry, shipping, historical vehicles, Shorty Ranger and local country music, telecommunications, textiles, silverware, ceramics and glassware, and the Angus McNeil glass negative photography collection.
Bus groups welcome.
62 Lachlan Street
South Kempsey, NSW, 2440
Located 12.5K from Kundabung
Kundabung: Events
Kristin Hardiman Exhibition - Slim Dusty Centre
The Nulla Nulla Gallery launches the Kristin Hardiman exhibition on Anzac Day. Kristin's talents as a painter are extraordinary and, are not limited to a particular genre or medium. Her skills as a portrait, landscape, and equine artist have been recognised in the many art prizes she has been a finalist in, or won.
The Nulla Nulla Gallery exhibition will showcase the diverse range of Kristin's talents in painting, drawing and sculpture, featuring all her specialty genres of portraiture, equine and seascapes. Kristin currently works as a tutor at the Sydney Art School, and has taught HSC art for 15 years out of her 30 years of teaching art in schools.
As part of the exhibition programme, Kristin will run a half day drawing workshop in portraiture on Saturday May 21st. For more information email Curator Julia Morrell.
Event Dates
2016
      30th May
      31st May
490 Macleay Valley Way
South Kempsey, NSW, 2440
Located 10.1K from Kundabung
Crescent Head Rugby Sevens
Crescent Head Rugby Sevens is one of the most prestigious rugby sevens tournaments held in the NSW Country, with over AUD16,000 prize money on offer.
There are Mens and Womens divisions and the registration cut off date is 22 January 2016.
All teams must be an ARU registered club or ARU recognised organisation. Each team will play a minimum of three games.
Rugby oval,
Crescent Head Road
Crescent Head, NSW, 2440
Located 11.6K from Kundabung
Kundabung: Travel Tips
Kempsey Visitor Information Centre
Val Melville Centre is located amongst the leafy green trees in South Kempsey Park on Lachlan Street, now known as Macleay Valley Way, south of Kempsey township. The Val Melville Centre was designed by award winning architect Glenn Murcutt, and houses the Visitor Information Centre, the Macleay River Historical Society Museum, and the Dunghutti-Ngaku Aboriginal Art Gallery. Manned by friendly and informative staff, the centre also boasts a large range of souvenirs, and a tour and accommodation booking service.
Plenty of parking available for caravans and motor homes whilst visiting the centre.
Val Melville Centre,
South Kempsey Park,
Lachlan Street
South Kempsey, NSW, 2440
Located 12.5K from Kundabung