Moorland: Where To Go / Sightseeing
Tactical Paintball Games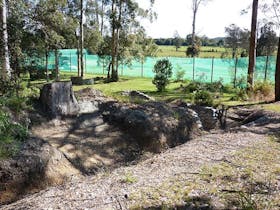 Located in Moorland, just 25 north of Taree, Tactical Paintball Games is an all new paintball field for the Mid North Coast.
Here at Tactical Paintball Games we have created fields tailored for maximum enjoyment. Each one of their fields is created with a theme in mind, with ever changing games and fields, as they want you to enjoy different scenarios and different styles of play.
Groups, social days, and individuals are all catered for.
Players must be over 16 to play and it is compulsory for all players to show identification.
Pacific Highway,
(Opposite Tom Cat Creek Rest Area)
Moorland, NSW, 2443
Located 0.3K from Moorland
Moorlands Cottage and Gallery
Moorlands Cottage and Gallery is an art gallery selling beautiful pieces by local artists. They are located in the original Moorland bakehouse building. Just 20 minutes north of Taree, Moorlands is the gateway to the beautiful Coorabakh National Park and the Three Brothers Region.
The cottage sits among extensive gardens. The cafe serves quality meals, light refreshments, and the 'best scones on the coast'. Local produce is also available for purchase.
Bookings for groups over four people are essential.
Tripadvisor "Certificate of Excellence" 2015 Winner.
34 Hannam Vale Road
Moorland, NSW, 2443
Located 0.4K from Moorland
Coopernook Forest Park
A favourite amongst caravan and campervan travellers, Coopernook Forest Park within Coopernook State Forest offers a free stopover and rest area for those seeking respite from highway travel. Halfway between Taree and Kew and just off the Pacific highway, picnic facilities and toilet amenities are available within a peaceful eucalypt forest environment. The Park also features flat, grassy fields perfect for camping or spending the night. Forest drives, bushwalking and biking are also popular activities for those visiting this area.
Forest Road
Moorland, NSW, 2443
Located 1.7K from Moorland
Cattai Wetlands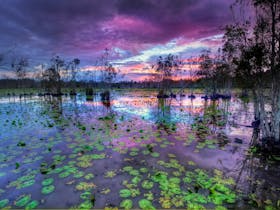 Just north of Taree past the Harrington turn on Spring Hill road lives the award-winning Cattai Wetlands, a beautiful coastal wetland and hidden gem of the Manning Valley.
Cattai Wetlands provide a sanctuary for over 180 species of birds, kangaroos, wallabies and regularly spotted Goanna's.
The Wetlands has over two kilometres of walking track and a board walk viewing deck for avid bird watches. Take a picnic and enjoy the surrounds with covered picnic area available for use.
The Cattai Wetlands are open to the public Friday to Monday 8am till 3pm and every day during NSW school holidays. Guided tours are available by appointment by calling Mid Coast Council.
Spring Hill Road
Coopernook, NSW, 2426
Located 6.0K from Moorland
Stones Oysters Seafood
Stones Oysters located along Harrington Road is renowned for having some of the freshest seafood and tastiest oysters on the coast. Their retail seafood outlet offers a great variety of produce cleaned and prepared for sale. Sydney Rock Oysters are our specialty, and they open oysters daily to ensure freshness.
At their oyster farm, they have the best technology and process strategies at their disposal. They ensure that the oysters they cultivate are of the finest quality and fresh stock is ready to go.
Stones Oysters specialise in fish and seafood platters for all occasions, so give them a call to discuss your needs.
To find out more about the wide range of products they offer, don't hesitate to contact the friendly seafood professionals at Stones Oysters today. They won't be beaten when it comes to freshness.
Open for retail sales, wholesale and to the general public
479 Harrington Road
Coopernook, NSW, 2426
Located 10.4K from Moorland
Bird Tree and Benaroon
Bird Tree and Benaroon, two of the biggest Blackbutt trees in New South Wales are situated in the Middle Brother National Park. Benaroon is rated as the largest Blackbutt in Australia and has a girth of 15 metres. Bird Tree, is 69 metres high, with a girth of 11 metres. Scientists estimate these trees predate the arrival of Captain Cook to Australia. The Bird Tree day use area provides a loop walk past the two giant trees.
This park is home to the largest and highest of the Three Brother Mountains in the Camden Haven region of the New South Wales mid north coast. Middle Brother or Yoorigan stands 558 metres above sea level and is a dominant feature when travelling the Pacific Highway.
The summit of Middle Brother is a mecca for para and hang gliders. A ramp has been installed by local pilots for these sports.
via Batar Creek Road
Kendall, NSW, 2439
Located 10.8K from Moorland
Harrington Beach State Park
Harrington Beach State Park is situated on the New South Wales Mid North Coast and comprises lands surrounding and including the Manning River's northern entrance.
The 431 hectare site stretches from Harrington to the picturesque fishing village of Crowdy Head.
The foreshores of the coastal beaches and estuary provide an array of year round recreation and tourism opportunities. The State Park also includes a small littoral rainforest that is accessible to the public.
Harrington Beach State Park,
Harrington Road / Crowdy Street
Harrington, NSW, 2427
Located 11.5K from Moorland
Crowdy Head Beaches
The beautiful area of Crowdy Head is located on a vast expanse of unspoilt beach which includes the North Beach and South Beach.
The North Beach is a well protected beach, excellent for families. The Surf Lifesaving Club overlooks the beach and patrols operate during the summer months. There is a kiosk, cold outdoor shower and toilet facilities. Picnic area with barbecues and picnic tables are nearby. Four wheel drive beach access is available near the Surf Lifesaving Club.
The South Beach is a quiet beach area ideal for relaxing strolls and, if the conditions are right, it is very popular spot for board riders. Visit nearby Crowdy Head Lighthouse for panoramic views of the coastline and the hinterland which includes the Three Brother Mountains (north, middle and south). There is four wheel drive access south of Crowdy Head.
Crowdy Head Road
Crowdy Head, NSW, 2427
Located 11.5K from Moorland