Rosewood
Rosewood is famous for its eucalyptus oil available at Gone Barny, a local nursery, gift shop and cafe.

Visit the town's beautifully maintained historical cemetery and see the location where bushranger Dan Morgan shot down Sergeant Maginnity in 1884.

Experience country life of years gone by at the Glenroy Heritage Reserve, including the Pioneer Women's Hut and National Quilt Register.

Be entertained and learn about the life of a mountain cattlemen from fifth generation mountain cattleman Tim O'Brien at the two-hour long Boggy Creek Show.

The Rosewood Golf Club is the home of the annual Rosewood Country Roundup, a music festival which attracts almost 450 caravans every year.
Rosewood: Where To Go / Sightseeing
Pioneer Women's Hut Museum
The Pioneer Women's Hut at Glenroy Heritage Reserve is one of the best and most unusual small museums in Australia. Cleverly themed, it reflects the ingenuity of women in finding solutions to the challenges of looking after a family in early rural Australia. The accessibility and provenance of the diverse collection adds to its reputation.
The Heritage Quilt Room exhibition is now open and displays "The Gift of Thrift" exhibition. Entry to this exhibition is AUD5 per person.
Glenroy Cottage Crafts is a little shop nearby offering a wide range of useful and attractive goods. Other heritage displays include a machinery shed full of farm implements used by the hard working pioneers of the Tumbarumba district.
449 Tumbarumba Road
Glenroy, NSW, 2653
Located 7.8K from Rosewood
Boggy Creek Show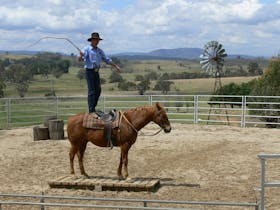 The Boggy Creek Show is an outstanding representation of Australia's unique Snowy Mountains heritage. Their presence for three generations in these wild and wonderful mountains has left them with a legacy from the past, with which they live today. You are invited to come and be inspired with breathtaking landscapes and experience this legacy through an authentic mountain farm show.
The two hour live performance includes: amazing Snowy Mountains horsemanship with stock and packhorse, mustering, whip cracking, working Kelpie dogs, unique Aussie humour (laughs and legends), stories about Australian history and mountain heritage, farm animals, sheep shearing, learn about a working Angus cattle stud; spectacular views of Mt Kosciuszko, Australia's highest mountain.
There is an under cover seating area, billy tea, cake and biscuits.
Boggy Creek is located 12 kilometres from Tumbarumba, NSW and is halfway between Sydney and Melbourne.
55 Boggy Creek Road
Tumbarumba, NSW, 2653
Located 8.7K from Rosewood
Artists on Parade Art Gallery
Tumbarumba Artists On Parade Co-operative Ltd is a not for profit, community based gallery and artist workspace, run by local artists and volunteers.
They have regularly changing exhibitions showcasing local and visiting artists. Expressions of interest for exhibitions, sale of unique, artist made items or hire of the workspace are welcomed.
Visit one of Australia's best regional artists initiatives with their regularly changing gallery space and unique gift shop stocking local to international products, handmade and collectables.
13 The Parade
Tumbarumba, NSW, 2653
Located 17.3K from Rosewood
Sugarpine Walk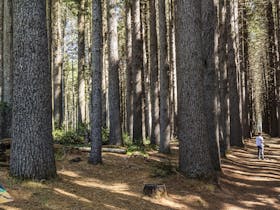 Sugarpine Walk is one of Batlow's best kept secrets.
Take the short stroll amongst a dense stand of enormous sugar pines planted in 1928. This species is the largest and tallest of all pines.
The walk is located on the edge of Kopsens Road, around half a kilometre from the Batlow-Tumbarumba Road at Laurel Hill.
Kopsens Road
Batlow, NSW, 2730
Located 22.5K from Rosewood
Hume and Hovell Walking Track - Henry Angel Trackhead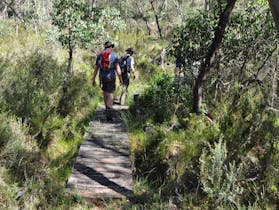 The Henry Angel Trackhead is a popular camping area with good facilities including electric and gas barbecues. It is located around nine kilometres from the town of Tumbarumba on the Tooma Road.
The picnic and camping area is a base for short and longer walks along the Hume and Hovell Walking Track, especially walking up and downstream exploring Burra Creek and its significant mining history. Not suitable for mountain bikes, and dogs not permitted on the track which crosses private land. Information boards are located at the trackhead.
Walkers should be adequately clothed with sturdy walking boots. Maps and more information are available from the Tumbarumba Visitor Information Centre.
Henry Angel Trackhead
Tumbarumba, NSW, 2653
Located 24.4K from Rosewood
Rosewood: Travel Tips
Tumbarumba Visitor Information Centre and Museum
The Tumbarumba Visitor Information Centre is located in the centre of town. Here you will find information about accommodation, attractions, events, road and weather conditions. The centre carries topographic maps, Hume and Hovell Walking Track map kits, and books.
You will also find a fascinating historical museum, along with a comprehensive collection of information about Tumbarumba's history of goldmining, timber, and mountain cattlemen.
10 Bridge Street
Tumbarumba, NSW, 2653
Located 17.4K from Rosewood