Sans Souci
On historic Botany Bay, just a few kilometres south of Sydney airport, Ramsgate rolls down to the bay and Lady Robinson's Beach, a multicultural gathering point, especially at the weekends.

There's great fishing and sailing in the bay, and now that the bayfront shops and restaurants are going up-market, you'll find a diversity of foods and ambient surroundings in which to dine as you gaze over the bay to the coastal shore line where Captain Cook made his historic landfall in 1780.

Rockdale Council has put together guide sheets and maps of heritage walks and drives that will introduce the visitor to the sights and sounds of the beachside municipality.

The standouts include: Rockdale Town Hall, built in Art Deco style in 1940; Dappeto, Fairview and Belmore, three grand, Victorian mansions dating back to the 1880s in Wollongong Road; and Tempe House in North Arncliffe.

Designed by celebrated colonial architect John Verge and built in 1836 for Alexander Brodie Sparks, Tempe House will be the centrepiece of a new town square to be developed by the council on Arncliffe Road.
Sans Souci: Where To Go / Sightseeing
Carss Cottage Museum
Carss Cottage is a sandstone cottage built in 1865 for William Carss and family. It is the oldest building still standing in the Kogarah area and houses a Museum focusing on local history, run by Kogarah Historical Society. Changing displays range from famous local artists to the history of theatrical groups from the region and lifestyles of the nineteenth and early twentieth century.
Open every Sunday afternoon and at other times by request for tour groups. Tours include a talk, tour of Museum and optional guided walk around Carss Park. Mondays at the Museum is a bi-monthly event open to all. Check their website for the full program of events.
Carwar Avenue
Carss Park, NSW, 2221
Located 1.4K from Sans Souci
Southgate Shopping Centre
Southgate Shopping Centre is a well established shopping centre located in the Sutherland Shire, approximately 20 kilometres south of Sydney central business district.
The Centre is comprised of 55 specialty stores and contains Coles, Kmart, Woolworths, AMF Bowling, Best Fresh, and First Choice Liquor.
Southgate boasts several high-quality fresh food retailers, a mix of national and boutique fashion, a food court and general retail businesses. Several retail service providers are located at the Centre.
The centre is owned by Industry Superannuation Property Trust Pty Ltd and managed by Jones Lang Lasalle.
Corner Princes Highway and Port Hacking Road
Sylvania, NSW, 2224
Located 3.2K from Sans Souci
Hurstville Museum and Gallery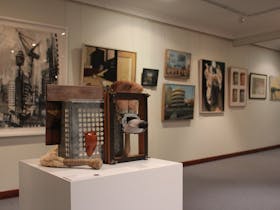 Hurstville Museum and Gallery is dedicated to preserving the unique history of the St George region as well as working with local multicultural communities to develop exciting art and history exhibitions and public programs.
The permanent exhibition's particular emphasis is on the domestic and working lives of the St George community in the 19th and 20th centuries. The Museum and Gallery is also a hub of continuous community activity presenting talks, programs, special events and ever-changing temporary exhibitions in its gallery space.

14 MacMahon Street
Hurstville, NSW, 2220
Located 4.1K from Sans Souci
Putt Planet Mini Golf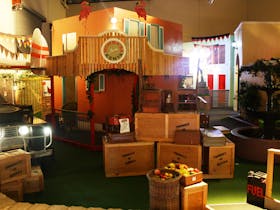 Putt Planet is an African themed 18 hole indoor mini golf centre, uniquely set in Mombasa, Kenya. The quirky and fun course is great for all ages and is wheelchair accessible. Before or after your mini golf game you can enjoy good coffee, milk shakes, drinks, sandwiches and light snacks at 'Jungle Jokers Caf?'.
Located near bus stops or a 15 minute walk to Miranda Railway Station.
Parking on site. No booking required.
Unit1/205 Port Hacking Road
Miranda, NSW, 2228
Located 4.7K from Sans Souci
Sans Souci: Events
GOL Beach Soccer
*** Latest event details are yet to be confirmed ***
Watch out Sydney, the world's greatest sports phenomenon, beach soccer, hits Australia's shores this Summer. GOL Beach Soccer
GOL Beach Soccer combines Australia's love of football with it's famous beach culture to create the ultimate beach soccer experience. A brand new form of beach soccer that is open to all ages and experience levels, exciting, easy to play and most of all - a lot of fun!
Players, supporters, Sydney-?siders and beyond will not only enjoy watching the game - they'll get to soak up the sun and thrive on the electrifying atmosphere. Plus there will be plenty of tasty food trucks and thirst-?quenching beverages to keep you full and hydrated for the day.
Teams of four to six players will take to the field. Registration is essential, please book through the website.
Event Dates
2017
      31st Jan
Dolls Point Beach,
179A Russell Avenue
Sandringham, NSW, 2219
Located 1.3K from Sans Souci
Emergency Services Mega Bash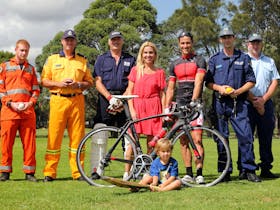 Come and watch the fifth running of the Emergency Services Mega Bash charity event between Police, Ambulance, Fire and Rescue, State Emergency Service, and Rural Fire Service staff at Gwawley Oval.
All monies raised will be donated to Bowel Cancer Australia. Bowel cancer affects one in 12 Australians, and is responsible for around 77 deaths per week.
The round robin cricket tournament is fun to watch and incorporates a raffle and a celebrity autograph signing session.
Food and drink will be available for purchase. There will be a range of activities for children and the family to enjoy.
All this, plus more, is free.
Event Dates
2016
      21st Feb
Gwawley Oval,
Lot 2 Taren Point Road,
(opposite The Good Guys)
Taren Point, NSW, 2229
Located 3.8K from Sans Souci
Emporium Official Exhibition Opening
Emporium: Inside Albury's most famous department store presents a revealing look at the phenomenal rise of the department store, the advent of ready-to-wear clothing and the proliferation of image-based advertising during the 20th century. The exhibition features one of Albury's longest running department stores, S.M. Abikhair's, which operated for almost 70 years from 1928. Original items include 1950s in-store fashion posters, along with women's fashion accessories, foundation garments, menswear and haberdashery.
Guest speaker will be former Vogue editor-in-chief, Kirstie Clements.
All welcome! Drinks and nibbles provided.
Feel free to come dressed in your best vintage outfit!
RSVP by Monday, 1 February 2016.
Event Dates
2016
      5th Feb
Hurstville Museum and Gallery,
14 MacMahon Street
Hurstville, NSW, 2220
Located 4.1K from Sans Souci
Rockdale Around the Christmas Tree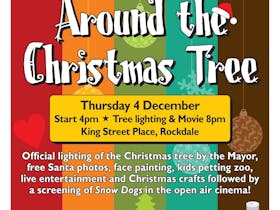 *** Latest event details are yet to be confirmed ***
Rockdale Around the Christmas Tree is a free family-friendly Christmas event held at King Street Place, Rockdale (the heart of Rockdale).
A fun filled evening with the official lighting of the Christmas tree by the Mayor at 8pm, a Santa meet and greet, live entertainment, a petting zoo, face painting, Christmas crafts and more!
Event Dates
2015
      27th Nov
2016
      27th Nov
King Street Place
Rockdale, NSW, 2216
Located 4.5K from Sans Souci
Southern Orchid Spectacular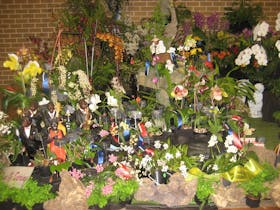 This October the Southern Orchid Spectacular (featuring the Eric Marygold Trophy) is being held at the Caringbah High School.
Come along and see the beautiful orchid displays, plants for sale or why not receive some free advice on how to grow that perfect orchid. There will be 17 state, national and international vendors with high quality plants for sale. There is plenty of free parking along with coffee and lunch available for purchase.
Previous years Orchid displays have been put on by: Eastern Suburbs Orchid Society; Sutherland Shire Orchid Society; Bankstown Orchid Society; Royale Orchids; S.P.E.C.I.E.S (NSW) Orchid Society; Neville Roper Orchids; Dendi Orchids and private growers.
For more information please visit the Orchid Society of NSW website.
Event Dates
2016
      7th Oct
      8th Oct
      9th Oct
85 Willarong Road,
Caringbah High School
Caringbah, NSW, 2229
Located 4.9K from Sans Souci
CASS Art Direct - Studio 101 Oatley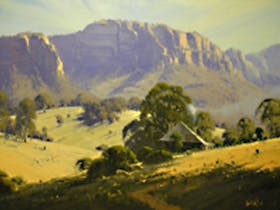 *** Latest event details are yet to be confirmed ***
Art Direct - a unique opportunity to visit the art studios of your local artists.
This September explore the culture and character of Sydney's many diverse communities from the mountains to the coast. The CASS Art Direct Open Studio Trail offers a unique tour of local artists studios.
The wider Sydney Basin is home to many creative artists and CASS Art Direct is an opportunity to experience the inspired and unique work of the region's artists.
The artworks offered for sale may be works on paper and painting, prints or sculpture, jewellery, pottery or glass. It may range from a small but unique gift to a large investment artwork. There will also be the opportunity to commission special pieces.
CASS (Combined Art Societies of Sydney Incorporated) is a non-profit group run totally by volunteer lovers of art.
For Art Direct Open Studio locations around Sydney go to the CASS website.
Event Dates
2015
      11th Sep
      12th Sep
      13th Sep
2016
      11th Sep
      12th Sep
      13th Sep
101 Woronora Parade,
Oatley,
NSW 2223
Oatley West, NSW, 2223
Located 5.5K from Sans Souci